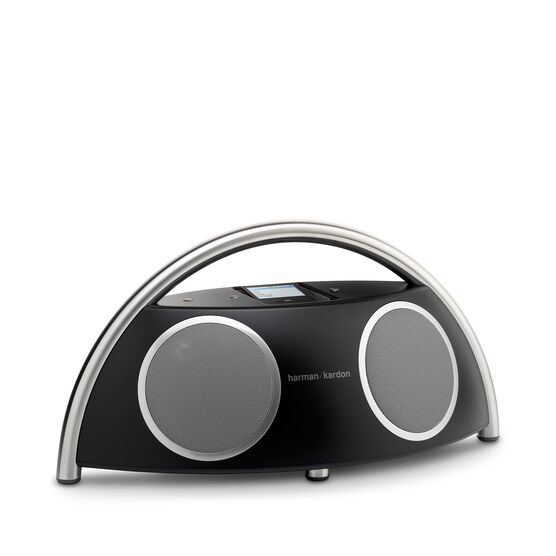 Harman Kardon Go + Play
Details
https://mm.harmankardon.com/GOPLAY.html?dwvar_GOPLAY_color=Black-USA-Current
---
High-Performance Portable Loudspeaker Dock
Compatibility
Go + Play incorporates the Apple iPod Universal Dock adapter, and is compatible with most docking versions of the iPod. A stereo mini-jack connection allows you to enjoy high-quality audio from a variety of other devices, including the iPod shuffle, MP3 and CD players, desktop and laptop computers (all platforms), and satellite radio.
Full-Navigation Remote
The wireless RF remote control provides the freedom to enjoy your music from across the room or in another room, or outside, from up to 20 feet. With full access to your iPod you can easily change tracks, browse libraries, adjust settings, and scroll through extras.
Evercharge topology
Go + Play will charge your iPod without a computer connection, even when the system is off.
Touch controls
For convenient desktop use, Go + Play features one-touch volume and muting controls.
Advanced Technology
Go + Play owes its clear, accurate sound and outstanding performance characteristics to proprietary technologies developed specifically for the realities of multimedia sound.
Atlas™ and Ridge transducers
The dual Atlas woofers are capable of peak-to-peak performance travel of nearly an inch for tight, accurate amplification. DSP (Digital Signal Processing) equalization efficiently provides the Go + Play transducers with cool-running power.
Understated, sublimely functional industrial design. Unsurpassed performance and ease of use. From its flat, protective iPod cradle and smart RF remote to its arching stainless-steel handle, this is the portable loudspeaker dock that only Harman Kardon® could build. Harman Kardon Go + Play™ delivers tight, thunderous bass from high-excursion low-frequency drivers. Just as important, the highs are distinct and crystal clear. Go + Play is AC- or battery-operated, so it will go anywhere your iPod or other music player goes – and make your favorite music sound better when it arrives. But however and wherever you use it, it's the sound that sets Go + Play apart.
Sharing